The process and paperwork involved in forming your LLC, Corporation, or Limited Partnership can be overwhelming. As each state has different requirements, using a service provider and registered agent will help you navigate the process and ensure all requirements are met with ease.
Harvard Businesses Services is the preferred choice for over 200,000 businesses incorporated in Delaware. In this article, we will review Harvard Business Services and all of the services they provide.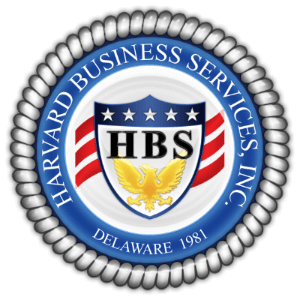 Interested in Harvard Business Services?
About Harvard Business Services
Harvard Business Services, previously known as DelawareInc, is based in Lewes, Delaware. They have been helping businesses register and manage their companies' formations since 1981. Richard (Rick) Bell built the company on the foundation of exemplary customer service, and his son, Michael, has maintained this philosophy, offering customer support via phone, email, and live chat. Their personalized client attention sets Harvard Business Services above its competitors.
While the agency only incorporates in Delaware, the state is known to be the most business-friendly, and more than 50% of U.S. publicly-traded companies are incorporated in Delaware. There are many advantages to incorporating in Delaware, and if you have a registered agent in the state, as Harvard Business Services offers, you do not need to operate or have a physical address in Delaware.
Harvard Business Services offers many services to guide you in the incorporation of your business:
Free name check to cross-reference the Delaware businesses database to ensure your company name is available
A Delaware registered agent for a low annual fee of only $50
A new Federal EIN (tax ID number)
A mail forwarding service if you do not have a local address
Structure Breakdown: Who is Harvard Business Services Good For?
It's important to know which type of business entity you are forming to determine if Harvard Business Services is the right choice for you.
LLCs are the most popular business entities filed in Delaware. It allows for a sole proprietor or partnership to run the company with limited personal liability without forming a corporation. The company's members will not be personally liable for the company's debts and cannot lose more than what they invested in the company.
Delaware allows LLCs to define their own terms in an LLC operating agreement. The operating agreement is usually a written document in which the owners address the LLC's interests, management responsibilities, financial distributions, ownership percentages, and the procedure if the company dissolves.
Some advantages to using Harvard Business Services to form your LLC include:
A registered agent for the first year and at a fixed fee after the first year
Quick turn-around time to processing your LLC
Three tiers of LLC formation packages: Green, Basic, and Standard
Delaware attracts many corporations due to its business laws - close to one million to date. Corporations in Delaware are business entities formed under the state's General Corporation Law, a specific type of business filing.
The type of corporation you form will determine the structure and options for your business. General corporations can publicly sell stocks, while close corporations have a defined number of shareholders. Within each type, you can set up a C or S corp, which affects how the company and its shareholders are taxed and the policies regarding shareholders.
Harvard Business Services can help you with all the necessary startup tasks when setting up a corporation.
Harvard Business Services can help you form a:
Delaware general corporation (C or S corp)
Delaware close corporation (C or S corp)
Delaware public benefit corporation (C or S corp)
Delaware non-profit corporation
A Limited Partnership is a business formed with two or more parties. There is usually a general partner who manages the company's daily responsibilities and is liable for its finances and debts, and limited partners who are not as involved but have vested interests.
Harvard Business Services can help you form a partnership business entity by filing a Certificate of Limited Partnership. It offers three tiers of Limited Partnership (LP) packages with varying benefits and price brackets.
A sole proprietor does not need to form a business entity such as an LLC or Corporation, so most of Harvard Business Services offerings are irrelevant. If you need to file a DBA, there are better options than using Harvard Business Services because they do not have any packages catered towards sole proprietorships.
Non-profits are corporations that have been granted a tax exemption by the IRS, referred to as 501(c). To qualify for this status, your corporation must fall under a specific category such as a charitable, educational, religious, scientific, or literary organization or institution.
Harvard Business Services can help you form a Delaware non-stock corporation and then apply for a 501(c) status with the IRS.
Harvard Business Services Packages & Pricing
Here are the packages and pricing that Harvard Business Services offers to entrepreneurs.
The Green Package, at $179, is the most economical. It includes:
Entity name check - to ensure your company's name is available to form a business entity in Delaware
All Delaware state filing fees
Preparation of all documents and requirements to file for the company formation
Same day electronic filing
Approved official documents emailed within 2-3 business days
Updates of annual Delaware state requirements and notices
Free digital corporate seal
Free registered agent for the first year and a low guaranteed price of only $50 per year for the lifetime of your company
Free customer support for the lifetime of your company
This package is good for all business entities and includes everything you need to file for a new business in Delaware.
The Basic Package, at $329, is currently discounted to $229. It includes all of the benefits of the Green Package plus:
Digital document templates for LLC or Corporation documents
Priority Mailing for all formation documents
This package is significantly more expensive than the Green Package without offering that many more benefits. It is useful if you need a hard-copy of your documents and want a sample of document templates to adjust to your needs.
Standard Domestic Package
- $429
The Standard Domestic Package, at $429, is currently discounted to $329. It includes all of the features of the Basic Package plus:
Digital Member Certificates
A Meeting Minute Book
A Delaware Company Guidebook
Additional Forms
A Gold Embossed Company Binder
Harvard Business Services also offers International Packages for companies outside of the United States filing in Delaware as well as a mail-forwarding service to their preferred address.
Overall Value vs. The Competition
Harvard Business Services is not the cheapest formation company, and there are competing companies that offer formation services for lower rates. However, their $50 annual registered agent price is the lowest, and they guarantee the price for the lifetime of your company.
Although the company is more expensive than other options, you do get what you pay for in the quality of Harvard Business Services.
Here are some comparisons to the competition.
Harvard Business Services Document Management & Online Experience
All documents in the state of Delaware are filed electronically, and Harvard Business Services uses an imaging system to expedite their document filings further. Once your documents are approved, they will be emailed to you to print and utilize immediately, oftentimes in as little as 1-2 days! This is a much faster system than most other U.S. states.
There are many advantages to digital documents, including:
Quicker processing time as they are no longer take a few days to reach you
More efficient filing
No lost or misplaced documents
If you need a certified copy of any of your documents, Harvard Business Services offers excellent customer service. Call or email them, and they will send you your requested copy.
Harvard Business Services Processing Time
Harvard Business Services has one of the fastest processing times of its competitors. As they are connected electronically to the Delaware Division of Corporations, they can file the company formation forms on the same day they are submitted and guarantee the approved documents within 24-48 hours.
They do offer expedited same-day processing time for company formation within 24 days for an additional fee.
Harvard Business Services Compliance & Track Record
Harvard Business Services has a proven track record, with scores of positive reviews across the spectrum. They have a professional business formation specialist work with every client to ensure all requirements are met.
Their clients praise their customer service, professionalism, efficiency, and reasonable prices. Many of their clients are repeat customers who have set up multiple businesses over the years. Some are long-time clients who have been using their services for over a decade. They all give testimony to their reliability and integrity.
Their representatives are responsive and helpful and will follow up with clients on any questions or issues. Harvard Business Services update their clients with information and requirements that may affect their business formation to ensure their clients remain in compliance.
Harvard Business Services Customer Service
The customer service at Harvard Business Services is reputed to be the best in the industry. In fact, their mission statement is: "We are committed to maintaining our reputation of excellence by providing our team with superior resources aimed at delivering quality services within an environment that encourages mutual communication and respect."
Their customer service representatives are friendly, knowledgeable, and respond quickly. They are reachable by phone, email, live chat, skype, or WhatsApp. They support Spanish-speakers both on customer-service calls and on the Spanish version of their website as well.
The Last Word: Is Harvard Business Services Worth It?
Harvard Business Services has a long-standing track record and reputation for forming business entities in Delaware. Their customer reviews testify to their experience and efficiency in filing and forming businesses, as well as the services they provide.
Of course, one of the biggest drawbacks of Harvard Business Services is that they are limited to the state of Delaware. If you are looking to file your company under another state, this service provider would not be an option. Another disadvantage is that their packages do not offer a Federal Tax ID EIN (Employment Identification Number) and you would need to pay extra for their service to obtain one.
While their package deals may not be the cheapest amongst their competition, they do often run sales and their registered agent fixed price cannot be beat. If you're looking to form an LLC, corporation, partnership, or non-profit in Delaware, Harvard Business Services is a solid choice.