Choosing an entity formation service can be a tedious task, especially with so many different options to choose from. Weighing the pros and cons of each service is a good practice before choosing the company that is right for you.
In this article, we will be reviewing SunDoc Filings. As a strong force in the LLC-formation industry, SunDoc Filings garner the respect of their customers through their efficiency and knowledge in legally creating businesses in all 50 states.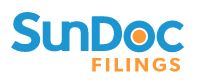 Interested in SunDoc Filings?
About SunDoc Filings
Since 1999, SunDoc Filings has been providing LLC formation services to customers in the United States.
SunDoc Filings is located in Sacramento, California, mere steps away from the Capitol. Being close to the Capitol Building gives SunDoc easy access to the Secretary of State, where they file legal documents.
Rather than relying on the United States Postal Service, employees at SunDoc Filings hand-deliver paperwork to California's Secretary of State. Outside of California, correspondents associated with SunDoc Filings manage filings in other state capitals.
Because SunDoc Filings hand-delivers documents, they tout a responsive and unbeatable turnaround time for business formation and compliance. All of the representatives are knowledgeable about the process, which helps customers get answers to their questions and fulfill their needs.
SunDoc Filings does more than form LLCs and other companies. Their representatives work with small businesses, attorneys, escrow companies, and professionals in the financial industry. Each representative works with attention to detail, speed, and excellent customer service in mind. They prepare documents and file them for their customers.
Along with filing forms and documents, SunDoc Filings also does search and retrieval for tax lien and judgment services. With several packages and flexible pricing, it is easy to see why SunDoc Filings is respected and trusted by many entrepreneurs, attorneys, and professionals.
Structure Breakdown: Who is SunDoc Filings Good For?
Although SunDoc Filings headquarters specializes in businesses in California, they have representatives all over the United States that can help entrepreneurs set up businesses in the other 49 states. They file documents for new businesses, and they help businesses stay in compliance and obtain federal tax IDs. SunDoc works with various types of businesses.
SunDoc Filings works closely with entrepreneurs and businesses to create and file paperwork for LLCs. This type of business is inexpensive to organize and is usually smaller than a corporation.
Limited liability companies offer several benefits, especially involving debts and legal issues. With an LLC, the owner has limited liability, so their assets are safe from collectors and legal attacks. SunDoc completes and files legal documents on behalf of people who want to form an LLC.
When creating an LLC, accuracy on the paperwork matters to state agencies. To comply with state requirements, entrepreneurs turn to SunDoc. The representatives at SunDoc know the rules and regulations in all 50 states to ensure your paperwork is correct.
SunDoc Filings prepares and files S and C corporation documents. The experts at SunDoc can help you understand the difference between each type of corporation, so you know which is best for your organization.
If you open an S corp, you claim the profits as personal income on your taxes. A C corp is responsible for paying its own taxes on profits. Both corporations offer limited liabilities. Corporations have more complex filing requirements than LLCs and partnerships.
Along with filing the corporation forms, SunDoc Filings will act as a registered agent for entrepreneurs who want to protect their privacy. SunDoc also helps companies obtain EINs, select a unique business name, and build their corporation kits.
Forming a partnership involves more than a handshake. Partners need to understand their roles in the new company, and they need to have protection from the other partner.
Partnerships are similar to sole proprietorships and LLCs. The two significant differences are the number of involved parties and the liability coverage. Partnerships do not have the same liability coverage as LLCs, which is why entrepreneurs considering one should talk to SunDoc for advice.
SunDoc will help you file the paperwork needed to form the partnership. They can also help you draft the partnership agreement, which is a document stating the roles and responsibilities of each member of the partnership.
While many small businesses choose to function as sole proprietorships, SunDoc Filings does not work with them. States do not require sole proprietorships to submit legal documents like they do with LLCs and corporations.
At most, sole proprietorships need to complete permits and licenses to do business in their respective states.
SunDoc works with entrepreneurs and agencies that want to create a non-profit business. The rules for non-profits are strict, especially regarding the distribution of profits. When starting a non-profit, working with a company like SunDoc Filings helps you stay compliant and makes the process efficient.
Tax rules, profit distribution, and filing rules for non-profits are confusing, which is why entrepreneurs need legal help. SunDoc is an experienced agent who can ease the complicated process and ensure the non-profit is legally compliant.
SunDoc Filings Packages & Pricing
SunDoc Filings has three packages available: Basic, Key, and Premier. The prices include necessary services, but they do not include state filing fees, which can add another $50 or more to your final price.
This basic package only includes filing forms with the state. The package does not include preparing or reviewing the documents, like articles of organization. If you choose this package, you should have an attorney review your paperwork before SunDoc submits it.
For an additional $20, SunDoc will prepare your articles of organization, check on the name you have chosen for your company, and file your articles with your state agency. SunDoc understands the requirements for preparing articles of organization for LLCs, S and C corporations, non-profits, and partnerships.
Before they submit your articles of organization, SunDoc will check with the state to be sure someone else has not already claimed your business name.
This robust package includes everything in the Key Package as well as:
EIN
Corporate kit and seal
S corporation filing
Every business needs to have a federal tax ID number, known as a FEIN or EIN - this is your business's social security number. In the Premier package, SunDoc acquires this number for you from the IRS.
Add-ons & Fee Notes
SunDoc offers other services as add-ons. If you want SunDoc to serve as your California registered agent, you will have to pay an annual fee of $159. At this time, the company does not offer registered agent services in any other states. We would not recommend using SunDoc as your registered agent, as it is not a service they specialize in.
If you would like to only purchase an EIN rather than purchase a package, you can do so starting at $70.
The company also offers services like retrieving documents, dissolving an entity, and taking care of foreign qualifications. If you want any special services, contact SunDoc for an accurate quote.
Each package only includes the work that SunDoc does. The company does not include state filing fees in their pricing. Each state offers a standard fee and an expedited fee for overnight completion.
SunDoc has generally fair pricing, the package costs land in the middle when compared to similar companies.
Overall Value vs. The Competition
On the whole, the Basic Package is very affordable and a good value at $79 + state fees. However, it's not the cheapest service on the market. If you're looking for just basic filing needs, we recommend checking out Incfile or ZenBusiness. You can view some other comparisons below as well.
SunDoc Filings Document Management & Online Experience
SunDoc has a robust and informative website. They offer plenty of information about forming various business entities. Unfortunately, the website does not offer easy access to your documents. They will retrieve them from the state resources, but they do not keep them on-file in their offices.
Their online portal is easy to use, especially when forming a business. All you do is upload your documents, and SunDoc takes care of filing them with the appropriate state agency. You pay the set fee depending on the package you choose. And finally, you choose what add-ons you want (e.g. a certified copy of the document sent to you, expedited filings). SunDoc takes care of the rest, and in a few days or overnight, you will have your new business.
The company does provide plenty of information about whether companies need a registered agent or not. Unfortunately, other companies offer better registered agent services and for a lower annual fee.
SunDoc Filings Processing Time
Like all other LLC formation companies, SunDoc has to wait for states to finish filings on their own timelines. And, like other LLC formation companies, SunDoc does allow customers to pay extra for expedited filings.
Without expedited fees, most filings take at least one week. When customers pay for expedited filings, they usually get their documents filed within 24 hours. Expedited processing time and costs vary from state to state. In California, customers can expect to pay at least $85 for overnight services.
What SunDoc does differently is to personally submit documents for filing. They do not mail them to state agencies. Instead, they walk into the buildings and file them in person. By doing this, SunDoc removes postage time, which could take a day to a week or more.
SunDoc Filings Compliance & Track Record
SunDoc Filings is a reputable agency that has been filing accurate documents since 1999. Customers appreciate their work, but they charge relatively high prices for their limited services. You could spend more than double the package prices after selecting from the various add-ons.
The company keeps in compliance with state requirements, and most customers leave positive reviews, especially about their filing speed. The biggest problem with SunDoc is the cost of add-ons in their packages. Many entrepreneurs would prefer a company that includes more products, like registered agent services in the main packages.
SunDoc Filings Customer Service
SunDoc Filings offers high quality customer service. Their website is filled with blog posts with advice to entrepreneurs and explanations about various services. The company does quality work and is notably speedy, especially compared to LLC-filing agencies that mail paperwork.
If you have a question, you can call SunDoc and talk to a person rather than a computerized service. According to sites like Trustpilot, SunDoc is highly respected because they do quality work with efficiency. The decision-makers at SunDoc understand that people do not like to wait, so their speedy work makes customers happy.
At the headquarters in Sacramento, SunDoc has a handful of employees. Rather than having offices in other states, SunDoc works with representatives from other companies. These representatives are not SunDoc employees, but they help the company file legal documents in the other 49 states.
The Last Word: Is SunDoc Filings Worth It?
SunDoc is definitely a contender in the entity formation market. Their packages are inexpensive, but they have limited opportunities. SunDoc increases its prices by offering add-ons like paying for an EIN number, getting certified documents, or getting a Certificate of Good Standing.
As SunDoc does not have satellite offices around the United States, entrepreneurs outside of California might want to find a company with a local office near them. In California, SunDoc Filings is located in Sacramento. They hand-deliver documents to the Secretary of State to speed up the standard filing speed.
Businesses in California that do not need to buy add-on services would benefit from SunDoc. However, if you want to maintain your privacy as a business owner, you might want to consider a company that offers registered agents for an affordable price. You might not get exactly what you want with SunDoc, as they do not include this service in any of their packages.